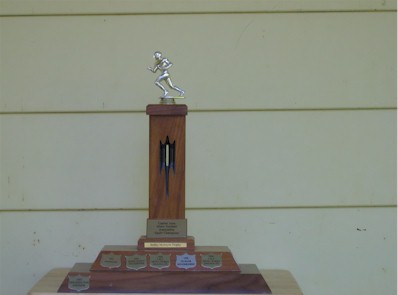 The Bobby McIntyre Trophy
Awarded Annually to the
Capital Area Minor Football Association
Squirt Champions
It was the fall of 1995. Seven year old Bobby McIntyre had accompanied his eleven year old brother Bill to football registration thinking that he too was going to sign up. Bobby learned that it would be four years before he could play. He was not prepared to wait that long. Over the next several months he lobbied his father (then Capital Area Minor Football President Terry McIntyre) continually about not being able to play. The result was the startup of the Squirt Flag League in 1996.

In 2005 the championship trophy was named the "Bobby McIntyre Trophy" to recognize his contribution to making the league a reality ten years prior.

At present (2009) Bobby is entering his fourth year as a member of the Acadia University Axemen football team. Tipping the scales at only 160 pounds, he is living proof of legendary University of Alabama football coach Paul "Bear" Bryant's famous quote: "It's not the size of the dog in the fight that matters. It's the size of the fight in the dog!"
1996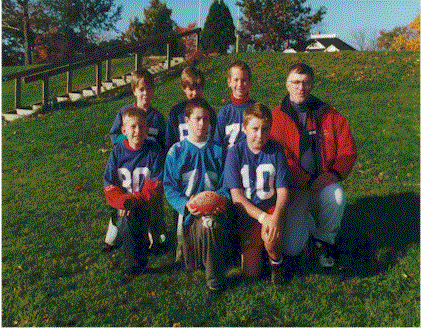 Argonauts
1996 Capital Area Squirt (Mosquito Flag) Champions
First Ever Capital Area Squirt (Mosquito Flag) Champions
Season Record 9-1 Points Scored- 310 Points Allowed- 195
Front Row: (l to r) Jared Fox, Andrew Estey, Stephen Soucy
2nd Row: Bobby McIntyre, Andrew Hubbard, Andrew Hickey, Terry McIntyre (coach)
Missing From Photo: Murray Bleakney